With conventional processing methods (e.g., parffine embedding, frozen sections), imaging of hard tissue and metal implants is only possible after additional processing (decalcification of bone) or not at all (metal).
With the technique of thin-ground sections used in this laboratory, all hard tissues as well as implants can be prepared in situ and histological sections <100µm can be produced which, after respective staining, also allow evaluation of tissue interactions under the microscope.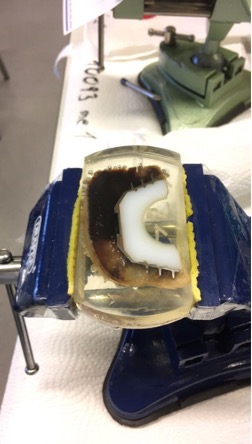 Additional imaging techniques (CT, µCT) bridge the gap between clinical information from standard imaging and high-resolution processing of our samples.